5 Website Design "Must Haves" in 2010!
Written by Randy Robertson on Jan 20, 2010 8:55 pm
Read More: SEO
Happy New Year!
Another year is beginning and it would be a good time to start thinking about how you can improve your online business presence over the next 12 months.
For my part I am integrating these 5 "must haves" into my personal web sites and believe they can help yours too!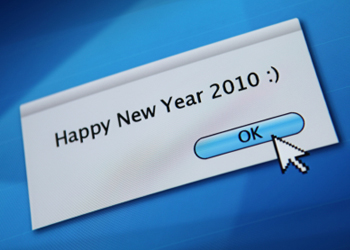 1. Video
Video content is now King on the internet. It doesn't take much to see what an affect YouTube.com has had on the world when CNN is broadcasting a big chunk of it's content straight from a YouTube link. So what can it do for you? It can raise your company's profile by making some "how to" videos. If you have a creative edge, viral videos are still all the rage. Not to mention that any videos you make can be shared via YouTube thus increasing your site's backlinks (A Backlink is a link that points "back" to your site, usually from another site. To check Backlinks (who is linking back to your site), type "link:http://www.yoursitename.com" into a Search Engine query field.) and increasing your visibility in the search engines.
2. Blog or forum (Fresh Content)
Just like video, content is and always will be King on the internet. You will never build a good search engine ranking by letting your content wither on your site. You need to add fresh content as often as you can (at LEAST once a month) to keep the search engines interested. This is fairly easy to do if you add a blog or a forum onto your site, or as I've been doing lately, build the site around the blog. Then you can add content whenever you like with a very easy WYSIWYG text editor already built in. The cool thing is you can add your own pictures and do your own SEO as well (with a few key plug-ins.).
3. Email list Opt-In
Do you know who your customers are? Would you like to know who potential customers are and how to contact them? You "Must Have" an email Opt-In opportunity on your site. There is no better way to keep in contact with your customer base, period.
4. Monetize Your Site
Okay, if you don't have some sort of advertising on your site you are seriously missing out on free money! Why every time you go to log into your web mail there are ads all over the place? It Works! The easiest place to start is to get some Google ads on your site, but there are literally 100's of ways to monetize your site. What about just advertising something you want to sell fast? Your site can be your own personal CraigsList! Or affiliate with one of your peers? Or sell an ebook. Or?
5. SEO, SEO, SEO
As always, and always will be, search engine optimization is crucial to your online success. The good news is that by adding all the things above will help to optimize your site. But don't be fooled, SEO is not a one shot deal. You need to be on top of it to keep your site in the game. There is so much competition out there now that you have to be creative and focused to jump to the top of the search engines in your niche.
So there you have it, my early tips to increase your site's visibility on the web. I wish you all the best in the new year, and if you enjoyed this article, come visit me at earconmedia.com!
Rare Webinar Exposes the One Investment the Top 1% Are Betting on During the Coming Economic Collapse...
[Free] Dramatically Increase Website Traffic With Cutting Edge SEO Training and Tools!
Comments