How To Stop Trading Time For Dollars And Start Trading Products For Dollars!
Written by Joseph Dorelus on Dec 10, 2013 9:10 am
Read More: MLM News
How much of a genius do you really have to be
to sell your products or services?
Article By: Marlon Sanders
Dear Friend,
Ever wonder how much of a genius you have to be for your marketing know how to pay off for you?
Here's a story that reveals the answer.
Today I ran into the lady who runs my local computer repair shop.
"That banner you told me to put up WORKED! I've gotten 5 jobs from it just this week," referring to the big yellow banner outside the shop reading "Virus Removal Experts."
Now, actually, the headline I gave her was along the lines of "Viruses Removed -- Guaranteed!"
Or something like that.
But what she's running is working, so I ain't tellin' her to change it anytime soon.
Flash back in time to 3 weeks earlier. We were talking about how she could get more customers.
Drawing on my vast storehouse of marketing wisdom, I inquired, "What's the #1 best seller you got around here?"
"Virus removal," she snapped back.
"See that blank spot on the sign out front? Will they let you put anything on that?"
She replied with a skeptical tone, "Well, you'd have to PAY for that. But they will let me hang a banner up."
Being the marketing genius I am, I replied, "How 'bout you put somethin' up there on a yellow banner...like your viruses Removed -- Guaranteed!
"...or perhaps....Viruses Removed in 48 Hours -- Guaranteed.
"Or...Free Virus Analysis."
I spouted off some blatantly obvious stuff like that anyone with any knowledge of and skill in headlines whatsoever coulda come up with.
Anyway, she put the yellow banner up with the relatively lame "virus removal experts." And it paid off in spades.
"Next time you come in, your repair is free," she offered generously.
Now, you may be thinking that all the money you spend on ebooks, courses and so forth is a waste if you don't start a business.
Look at it this way.
http://www.getyoursales.com?p=ms133861&w=bestofmarlonsq
You can get a lot of free stuff like computer repair, dry cleaning or whatever...Just by having the most basic, simple understanding of marketing.
Anyway, I popped by later and showed her how to run an editorial style ad dropping into a hotline followed up by a series of letters ala Dan Kennedy/Jeff Paul model.
Again, this ain't rocket science stuff.
You shoulda seen her eyes light up.
Then I came up with a back end for her since her profit margin is horrible.
And if you've studied headlines a little and know just the basics of lead generation, you pretty much coulda done the same.
How much of a genius do you gotta be to come up with a headline like:
"What will YOU do when your wife, kids and friends see P-O-R-N popup on YOUR computer? We get if off FAST! Guaranteed. Or it's free."
See, all this marketing stuff might end up not bein' a waste for you after all.
Fact is, with a little direct response knowledge, you can appear to be a genius to a LOT of businesses.
Best Wishes,
Marlon Sanders
P.S. If you like what you've just read and want more marketing tips like this then you need to go through the "Big Course ".
Check it out at:

=> YOUR KEY TO ONLINE SUCCESS
******************************************
Marlon Sanders is the author of The Amazing Formula That Sells Like Crazy, The Push Button Letters Software, How to Create Your Own Products in a Flash, Gimme My Money Now, The Marlon Sanders' Marketing Dashboard, The Cash Like Clockwork System, The Action Grid System, The New Wave Direct Mail Success System and many other marketing systems, tools, courses and software programs.
For an in-depth look at the formula presented in this report, visit Marlon's blog:
=> http://www.getyoursales.com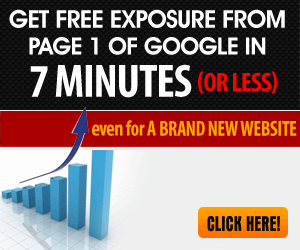 Comments