I'm back at BetterNetworker because I want to work on my future again! via BetterNetworker
Carolina Millan
Human Resources Executive
Company:
No Company Entered
Industry:
No Industry Selected
Experience:
Experience Unknown
Follow Me On
About Me
Hello all,
If you are reading this it means you are interested in getting to know my a little more. And you have no idea how much I appreciate that. I hope I can get to know you too, so don't click away before adding me as a friend, or else I will never know that You stopped by :)
My name is Carolina, I'm 24 years old and I live in the beautiful land of Chile. I love living life, I consider it a gift. I love my friends, my family and my pets. I love animals in general, and I'm grateful for having them in the World.
I love languages. I speak English, German and Spanish. I studied Management and Business Administration at a very prestigious University here in Chile. Travelling is one of my passions, and during my life I have been able to see some of the most beautiful sights of the World. But yet I still have so much left to see. To me, travelling is probably the best way one can invest money on. :) And because I have dreams that I want to achieve in the future, is that I decided to run my business from home. And I will not stop until I make it big. The opportunity is out there for those who think ahead. Short term and lasting solutions are hardly available. I know most people want things fast, but sometimes you need to be patient and work for things to turn out the way you want them. Everything is possible.
Another big passion of mine is music. It's been a big part of my life ever since I was a kid. I love singing and playing guitar. And I love listening to my favourite bands. To name a few: Muse, Bright Eyes, Alice in Chains, Guns n Roses, Beirut, Nirvana, Red Hot Chili Peppers and more...
I also love singing and playing guitar, so if you ever want to check out my Music cover you can listen to them here http://www.myspace.com/caromv  I'm not that great, but I do it with passion! :)
This is me in France. And that's one of my favourite castles in the world. I hope to be able to build my own little castle someday.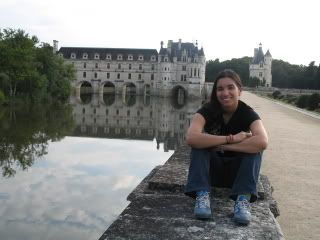 Right now I'm very happy running my home based business. Everyday I acquire new knowledge. And I'm looking for people who can show me why they would be a good addition to my business.I'm also here because I still have so MUCH to learn! I have only been in the business for a couple of months, but I'm determined to succeed and to help other people.
I haven't lived the happiest of lives, I've actually experienced a few bad things that marked me as a person. But I don't want to depress anyone with my story :)
I look forward to meeting new people here. Meeting people from all over the world is one of my major thrills in life.
all the best and thanks for stopping by.
Caro.